If you want to taste a bit of Bulgaria and travelling is not yet on the agenda, why not visit your local supermarket?
There is a good chance that Bulgarian food and drinks are sold in your country. Products made in Bulgaria have been great ambassadors for a country with a population of just over 6.8 million. A perfect combination of climate, soil condition, and long traditions have made this list of products ever so desirable.
1. Bulgarian Yogurt
Meiji is a popular yogurt brand in Asia. The company was founded in Japan in 1916 and in 1972 acquired a licence to use the name "Bulgaria" as part of its branding. In 1993 a product named Meiji Bulgaria Yogurt LB81 was introduced. It has an improved lactic acid bacteria composition incorporating Lactobacillus bulgaricus and Streptococcus thermophilus. In 1996 Meiji Bulgaria Yogurt received the "Food for Specified Health Use" (FOSHU) approval, granted by the Japanese government. Main health benefits include an improved balance in the intestinal flora and maintenance of sound gastrointestinal conditions. The lactic acid bacteria undergo slow fermentation. The result is a yogurt that is smooth in texture and rich and mild in taste. A 400 g pot of yogurt sells for 180 yen or about 1.20 EUR. The same brand is also available in Thailand where a pot of 450g sells for 80 Baht or about 2.16 EUR.
2. Bulgarian Mineral Water
Devin is a brand gaining popularity in neighbouring Romania. The company behind the brand is the market leader in Bulgaria with a 40% share in the Bottled Water category. Their story began in 1992. Currently, the business entity holds a concession for the use of drillings 3 and 5 in the region of Devin, a small town in the very south of Bulgaria. Their offering includes both natural mineral water and spring water. Devin is sourced from the heart of the Rhodope Mountains. The water percolates to a depth of 700 meters, and it is known for its pure, fresh, and velvety taste. It has a low rate of mineralization and it is suitable for everyone. A 5L bottle of Devin mineral water is priced at 7.70 RON or the equivalent of 1.55 EUR.
3. Bulgarian Vegetable Relish
Liutenitza is a Bulgarian vegetable relish, with main ingredients including grilled red pepper, tomatoes, aubergine, sunflower oil, salt, and sugar. This is a ready-to-eat product with a smoky and versatile flavour. It can be served with swirled over Bulgarian white brined cheese, spread on a slice of bread, or as a side for a BBQ. Deroni is a major producer of liutenitza in Bulgaria. The company was founded in 1991 and it is now operating in more than 31 countries around the world. Their vegetable gardens are in the Upper Thracian Valley and are the largest in Bulgaria. They grow over 8 million plants every year on 3 million square meters of drip-irrigated land near the village of Bogomilovo.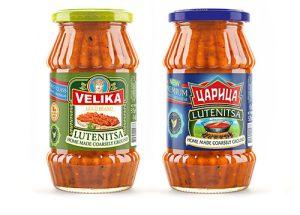 4. Frozen Pastry with Cheese
This product is sold frozen, so you can enjoy them warm from the oven with that freshly baked aroma in your home. Bella is the largest food producer in Bulgaria. The company started its operations in 1997. They offer a range of filo pastry pies. Their products are based on traditional recipes known to many generations in Bulgaria as "Banitza". Some of their more popular varieties include twirled filo pie with cheese, with cheese and spinach, with pumpkin, and with apple and cinnamon.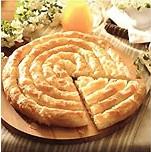 5. Bulgarian Wine
One of the popular wine regions in Bulgaria is known as the Thracian Lowlands. Situated south of the Balkan Mountains it has a mild climate and it is one of the world's oldest winemaking regions. The Thracian valley is drained by the Maritsa River and has a Mediterranean climate with mild, rainy winters and warm, dry summers.
British consumers would recognise a Bulgarian Merlot when they see one listed in Tesco, the UK's biggest supermarket. Vinivel, operating under the brand name Yamantievs, has launched Zlato Valley (Gold Valley) Bulgarian red wine. A bottle of "Zlato" is priced reasonably at £4.75 or about 5.50 EUR. It has ripe plum and black cherry flavours with a light finish. Fruity and medium bodied it is perfect for pairing it with pizza, pasta, and roast dinner.
5.1 Bulgarian Wine in Germany
A bottle of Enira Bessa Valley sells for 12 EUR in some German supermarkets. The 'Bessa Valley' project began in 2001. The region around the Bulgarian village Ognjanovo was chosen after a lot of research and after a specially conducted detailed analysis of the soil in French laboratories. The name of the wine cellar 'Bessa Valley' means 'the valley of the Bessa' (a Thracian tribe who settled these areas). In early 2005 the wine complex 'Bessa Valley Winery' and 'Ognjanovo Winery' was completed. The wine cellar is located at the foot of the hill above the vineyard, covering an area of ​​4.2 hectares. The external facades of some of the buildings are clad in stone. The basement has an area of ​​3,355 m2 and is dug into a rock that ensures natural insulation and a constant low temperature. All this is the result of an ambitious project by the famous Count von Neipperg, who also works here with some classic French technologies.
6. Bulgarian Fillet
Bulgarian Fillet Elena (pronounced in Bulgaria as File Elena) – is a dried raw meat product made from pork tenderloin. The name comes from the town of Elena in northern Bulgaria, at the foothills of the Balkan Mountain range. The meat is pressed, and it has a clean and well-dried surface. It is coated with dried savory and black pepper to achieve a delicate taste. This Bulgarian product is recognised by the EU Commission with a TSG – Traditional Specialities Guaranteed. The traditional methods used include:
·        Salting each tenderloin fillet by hand or mechanically and maturing for no less than 10 days.
·        Even distribution of moisture. The meat is pressed using presses made from natural wood.
·        Drying in specific conditions to allow the development and preservation of lactic-acid microflora specific to Bulgaria.
·        Finally, the dried savory is crumbled rather than ground, and the seasoning mixture is applied to the tenderloin through rolling.
7. Bulgarian Wafer
The new My Motto wafers have 80% cream filling in four popular flavours Cacao, Hazelnut, Tiramisu, and Vanilla. The key to their success at home and abroad is their crispy two-piece wafer. In 2021 the company behind the brand, Ficosota, opened the doors to a brand-new state-of-the-art production facility near the town of Shumen in Bulgaria. They describe themselves as the most surprising wafer on the market – with a square shape and overflowing with cream. There is a capacity to produce 230 million wafers a year, fulfilling orders destined for 40 countries on 6 continents. My Motto is free of palm oil and instead use coconut oil. The cream-to-shell ratio is 80% to 20%. Over the last three years, the company has achieved major growth in Romania and Ukraine. My Motto 34g wafer retails for 1.16 RON or about 0.23 EUR in Romania.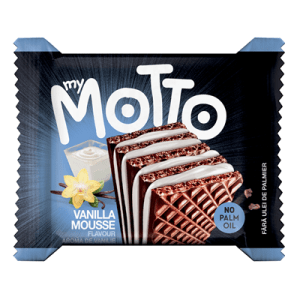 The "magnificent seven" products above are all tried and tested and made in Bulgaria. They have passed the test of time.
Why not add them to your next shopping list?